Broadway I Overview
LINX Theater Broadway professionally executes shows that are familiar to the Musical Theater and Broadway following. This 2-hour class helps performers perfect their abilities in musical theater as they learn skills that will help them excel in future B.F.A. programs and professional auditions.
In Broadway I, students begin their study of famous theatrical titles as they work toward a final production that is entertaining and enriching. Students learn story structure and how to engage an audience.
This spring, our youngest Broadway performers (Broadway I and II) experience their main performance in The Black Box Theater at the Walnut Hill School for the Arts in Natick. This professional venue is an immense benefit for children and their families and friends as everyone shares a more intimate setting, where actors can be seen from all angles up close, and cast mates can more confidently project their young voices and maneuver a smaller stage with confidence. As a bonus, all actors delight in joining the Broadway III and IV performers on the big stage on the Walnut Hill School for the Arts' Main Stage, as part of the ensemble and/or large scenes during one of Broadway III and IV's large stage performances on the weekend. These children will truly get a taste of what the next level performance has in store for them.
Your child will learn:
Improved vocal range and projection
To combine voice, body and emotion into dynamic performances
To study Broadway classics
To study famous theatrical composers
Character development
Commitment to projects and fellow players
A professional approach
In a magical kingdom beneath the sea, the beautiful young mermaid, Ariel, longs to leave her ocean home to live in the world above. From Hans Christian Andersen's classic story, to the Academy Award-winning film and Broadway musical, Ariel's undersea journey inspires us to follow our dreams and our hearts. Join us under the sea this spring!
When your young performers plays with us beneath the sea, they will learn…
Caribbean style dance
Mastery of physical movement and illusion
Silks
Choral ensemble and harmonis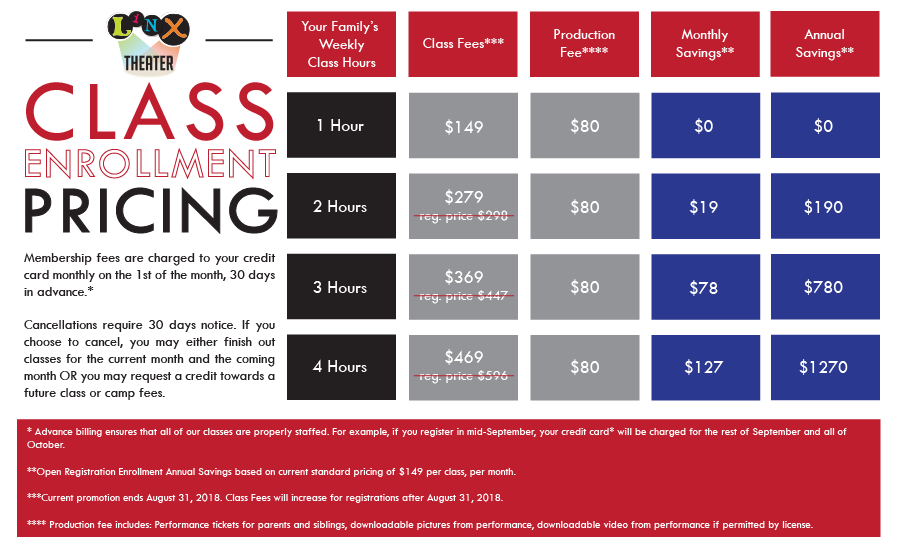 Select a time below to register:

Mon
Tue
Wed
Thu
Fri
Sat
Sun

5:35pm

Invite only

Please login to see invites

(2nd-12th)

Miss AnneMarieInvite Only - The Little Mermaid Jr.
Dress Rehearsal: 6/14, Performance: 6/15 & 6/19

4:35pm

Invite only

Please login to see invites

(2nd-12th)

FULL

Pricing
Policies