Broadway for Dancers
LINX Theater Broadway professionally executes shows that are familiar to the Musical Theater and Broadway following. This 110-minute class with no audition needed, helps dancers apply their training to musical theater as they learn skills that will help them excel in future B.F.A. programs and professional auditions. Dancers are vital to the musical theater industry but they must have acting and singing skills to go along with their physical training. This class is open to LINX Dance Team and Company members only, making it a great place to further friendships, try something new and gain even more performance experience.
Your child will learn
Musical Theater Choreography styles
Improved vocal range and projection
Acting technique through song and scene
To combine voice, body and emotion into dynamic performances
Character development
Commitment to projects and fellow players
Mary Poppins JR, based on one of the most popular Disney movies of all time, is an enchanting mixture of irresistible story, unforgettable songs and breathtaking dance numbers. The jack-of-all trades, Bert, introduces us to England in 1910 and the troubled Banks family. Young Jane and Michael have sent many a nanny packing before Mary Poppins arrives on their doorstep. Using a combination of magic and common sense, she must teach the family members how to value each other again. Mary Poppins takes the children on many magical and memorable adventures, but Jane and Michael aren't the only ones upon whom she has a profound effect. Even grown-ups can learn a lesson or two from the nanny who advises that "Anything can happen if you let it."
Show Specific Skills
"Stomp" style rhythmic dance
British Accents
Classical broadway singing
Acting in historical setting
Based on the original Broadway production that ran for over thirteen years and was nominated for nine Tony Awards, and the Academy Award-winning motion picture, Disney's Beauty and the Beast JR. is a fantastic adaptation of the story of transformation and tolerance. The classic story tells of Belle, a young woman in a provincial town, and the Beast, who is really a young prince trapped under the spell of an enchantress. If the Beast can learn to love and be loved, the curse will end and he will be transformed to his former self. But time is running out. The Beast's servants, who are also under the spell, try to help give the Beast what he needs to earn Belle's heart. If the Beast does not learn his lesson soon, he and his household will be doomed for all eternity.
Show Specific Skills
French accent
Acting in elaborate costumes
Characterizing narration
Partner dancing
Singing in head voice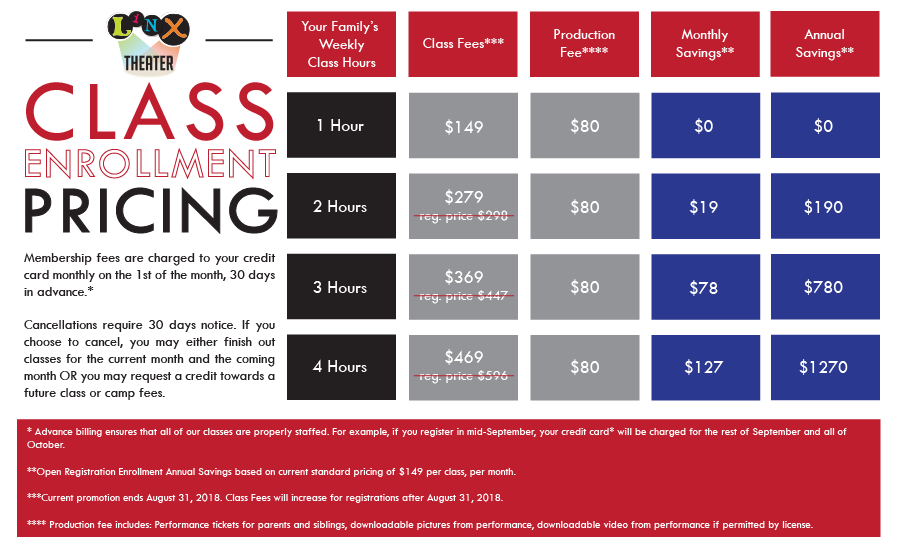 ---
Current
See calendar of classes running through June that are available for registration
---
Fall 2018
Select a time below to register:

Mon
Tue
Wed
Thu
Fri
Sat
Sun

1:05pm

Invite only

Please login to see invites

(2nd-12th)

Miss AnneMarie

Starting Sep 8, 2018

Invite Only - Mary Poppins Jr. for LINX Dance Team and Company Members Only

No audition needed

Pricing
Policies