\
We offer both

in-person

and

virtual

options for this class.
LINX Theater Broadway professionally executes shows that are familiar to the Musical Theater and Broadway following. This class helps performers perfect their abilities in musical theater as they learn skills that will help them excel in future B.F.A. programs and professional auditions. In Broadway III, students begin developing a more advanced understanding of theater. Through performing an entire show, more challenging choreography and the addition of harmonies and vocal parts, our Broadway III's work toward becoming young professionals. All Broadway III and IV students have two performances of each Broadway title performed.
Program Details
Your child will learn:
Improved vocal range and projection
To combine voice, body and emotion into dynamic performances
To study Broadway classics
To study famous theatrical composers
Character development
Commitment to projects and fellow players
A professional approach
Mandatory Acting Technique Class
All Broadway III students are required to register for an Acting Technique class which will help them achieve triple-threat status—skilled in singing, acting and dance. This class is included in the Broadway III rate.
Learn more & Register
Anything's Possible Festival - Fall 2020
Our Broadway students present a tribute to the spirit and love of Musical Theater as we begin our season with a musical-revue style showcase for our festival. Inspired by the theme of our mainstage production, Seussical JR, we'll be performing musical selections from across the musical theater catalogue that showcase our abilities to "think and wonder and dream, far and wide as you dare!"

This Festival performance will take place in late October or early November in an open-air outdoor theater setting with appropriately distanced staging and seating for immediate family members.
Seussical JR - Spring 2021
All of your favorite Dr. Seuss characters spring to life onstage in Seussical JR, a fantastical musical extravaganza! The Cat in the Hat narrates the story of Horton the Elephant, who discovers a speck of dust containing tiny people called the Whos. Horton must protect the Whos from a world of naysayers and dangers. Ultimately, the powers of friendship, loyalty, family and community are challenged and all emerge triumphant. Join our Broadway performers this season as we explore the world of Seuss. We'll be working hard on our character-building this session to be sure that these classic characters leap from the page to the stage, focus on building theatrical environments as an ensemble, and taking on new choreography styles as we go on a crazy adventure from the Jungle of Nool, to the Circus McGurkus, and who knows where else—"Anything's Possible!"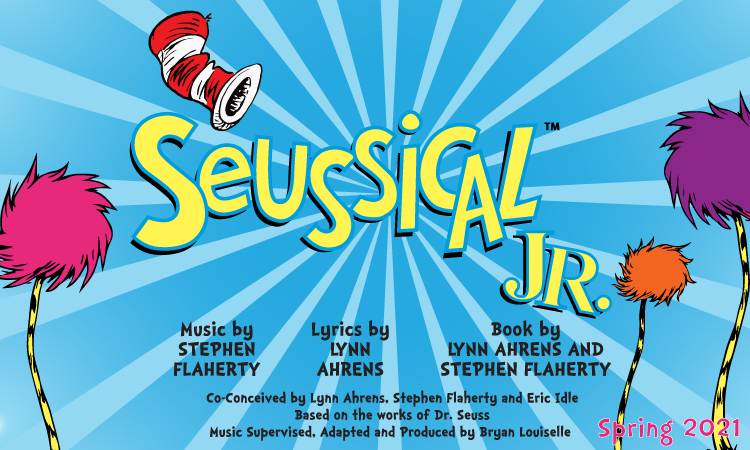 Rates
Our Broadway III program is $329 per month, which includes a two hour Broadway III class and one hour Acting Technique class each week.

Please know that LINX bills 30 days in advance. Monthly fees are applied on the 1st of each month for the coming month of classes. For example, you will be billed on October 1st for November classes and on November 1st for December classes. We have this policy to ensure our teaching staff are scheduled and paid appropriately. Our policies page describes how cancellations need to be made in this advanced billing model.

Our monthly class rate is an average based on the cost of our program year divided by ten months. Some months will have more classes and some months less, but your cost will not change regardless of the actual number of classes in that month. This is a very different rate model from most enrichment programs and a LINX Difference.
Register for Broadway III
Available Broadway III Dates
Please select your child's age/grade
Thursday
4:35PM - 5:25PM
Miss Samantha
Tuesday
5:35PM - 7:25PM
Miss Alex
Friday
4:35PM - 6:25PM
Mr. Todd